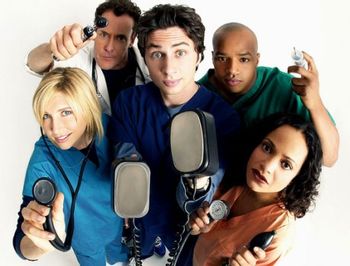 "Dr. Dorian, do you not realize you are nothing more than a large pair of scrubs to me?"
— Dr. Bob Kelso, "My First Day"
Scrubs is a Dramedy series that aired from 2001-2010 (2001-2008 on NBC and 2009-2010 on ABC, although the latter network's parent company produced and owns the rights to the show). The show is Putting the "Medic" in Comedic at its finest, shot in a single-camera format.
John "J.D." Dorian trains and works at Sacred Heart Hospital, learning the difference between studying medicine and being a doctor, as well as how being a person can differ from both. His guide through much of this is Dr. Perry Cox, an acerbic, sharp-tongued and profoundly bitter attending physician with a terrible personal, professional, romantic and social life but a genuine desire to help his patients.
Other people in the hospital provide contrast, support, and the more-than-occasional weird situation: J.D.'s long-time friend Dr. Chris Turk, a surgeon who tries to be the best and blackest thing since burnt sliced toast; nurse Carla Espinosa, the Team Mom to the staff with a penchant for delivering advice whether you like it or not; Dr. Elliot Reid, J.D's (female) on-again, off-again love interest and possibly the only doctor on staff more nerdy and psychologically messed-up than he is; Dr. Robert "Bob" Kelso, the hospital's Chief of Medicine and Jerkass of a boss whose job requires him to be a heartless bastard and think only of the hospital in fiscal terms; and "Janitor", a mysterious and often menacing presence in J.D.'s life who has taken the role of his nemesis.
Scrubs uses rapid-fire dialogue, a running mental commentary in J.D.'s head for narration, rapid scene changes, hippocratical humor and a single-camera viewpoint to maintain a high energy to the story and to the comedy. The show also takes quite a few dives into the surreal end of the pool, especially in its frequent depiction of J.D's fantasies. These fantasies provide much of the show's humor, as it deals with the often bizarre train-of-thought and overly literal depictions of metaphors people use.
The show became well known for its focus on Character Development, the extensive supporting cast and recurring characters, the largely accurate medicine and politics surrounding it and paying attention to the gradual progression of the careers of the young doctors (how they go from interns to residents to attending physicians and eventually department heads).
Scrubs spent its first seven seasons on NBC, but moved to ABC for its eighth season. That season ended with what was thought to be the show's Grand Finale, an episode whose end credits were played alongside footage of the cast and crew tearfully saying goodbye to each other. But in a surprise move, ABC picked up Scrubs for yet another season; this resulted in a Post-Script Season set at New Sacred Heart, a teaching hospital. Though Turk, Dr. Cox, Dr. Kelso and J.D. all showed up (the latter for only 6 episodes), the focus was on a new group of interns, with intern Lucy Bennett largely replacing J.D. as narrator. The show officially ended after the Season 9 finale.
There is now a Shout Out page, as well as a recap page that looks like it needs some good curing.
---
This show provides examples of:
open/close all folders
A
Awful Wedded Life: Played for laughs in some of the Imagine Spots when all the other characters imagine being married to Elliot. Kelso and Elliot are sitting across from each other at a huge dining table; Kelso knows that his wife hates him but he doesn't care. Dr. Cox is so annoyed at Elliot being his wife that he murders her within two days and considers going to the chair as a result Worth It.
B
Baby Be Mine: None of the main cast thankfully but there's one female doctor in the season five opening that does this. She takes the kid just as the couple exits the hospital and sprints out side, only to slip. The Janitor catches the baby.
Baby's First Words: Dr Cox's son Jack's first words were a first sentence: "Daddy drinks a lot" as a response to Jordan making the drinky-drinky motion because Dr Cox was drunk at the time.
Back for the Finale: Good Lord, too many people to name: both dead and alive. Though not everyone made it - in particular, both of Jordan's siblings (played by Brendan Fraser and Tara Reid) were absent, Heather Graham (Dr. Molly Clock) declined due to other commitments, and since the show had just channel hopped to ABC, NBC did not allow Masi Oka (Franklin/Hiro Nakamura) or Sarah Lancaster (Gift Shop Girl/Ellie Bartowski) to make cameos.
C-D
E-H
I-L
M-P
Q-T
U-Z
---